Current Restoration Progress
In the summer of 2022, the 658 Main Street Foundation began a restoration project on the historic Fay Club building. We would like to acknowledge Old Time Restoration and proprietor, Steve Curtis, for his expertise and the generous donation of countless hours and a variety of materials to bring this beautiful building back to its original grandeur. Below are some of the before and after pictures. There is much more to do, and your financial support is greatly appreciated! Restoration and repairs will resume in the spring of 2023.
Restoration Updates as of November 10, 2022. Watch the videos to learn more.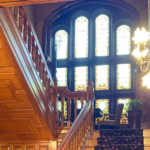 Original to the building, this beautiful stained glass has suffered some recent water damage, and has been repaired on the outside.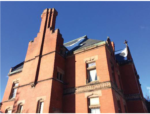 All of the chimneys have suffered major damage over the years, but the two larger chimneys will need to be rebuilt.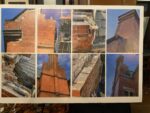 The roofing has also suffered great damage and has been repaired during this first round of restoration.
These are some of the priority projects to restore the building to its original beauty.